Entering China, lululemon style
You may be surprised to hear that lululemon's Unroll China event is their main event to showcase to the world that they've officially entered the China market.  That's because they've been very slowly, but deliberately planting the seeds of their core values in Shanghai and Beijing for the last four years!
I remember that early beginning very distinctly because they reached out to me before they even had a store, a showroom, or even a community – and I didn't have Olive Branch.
I was running a very small fitness class for friends and friends-of-friends, in a rented studio when Flora (first lululemon China staff) attended Alan's Circuit Training.
After a pleasant morning hike up to The Great Wall, we scaled up the steep section of the wall and as we walked past the sectional guard tower 50 yoga mats were laid out, waiting for our arrival.  A special sunrise yoga session led by global ambassador Baron Baptiste on The Great Wall!
Who would've known that lululemon would go on to help kick-start the insanely hot fitness industry in China that we all know it to be today.
They did it not by pouring thousands of Renminbi into advertising and commercials but by building up the community – and if you've ever attended one of lululemon's events, then you understand how seriously they take their community.
Being their ambassador since the time of the showroom (mini-store) days, I have witnessed first-hand their steadfast priority on building community by focusing on people.  And being one of the privileged few who got to attend their Unroll China finale in Beijing deepened my belief in their conviction.
Having spent the entire weekend meeting other ambassadors and fans of the brand, I'm impressed by how they've managed to not only find but to attract so many good people.  When you are amongst high-calibre people, you can't help but get pulled along the way.  You think and behave outwardly, putting others before yourself.  You give without expecting to receive anything in return.  You feel grateful when they do give back, and you can count on that they most certainly will.
One reoccurring theme throughout the weekend was the aspect of passion.  It wasn't in-your-face obvious, but instead it was a subtle undertone that permeates through our weekend experience.  When speaking with a fellow ambassador from the Beijing store, I learned that his craft was directing.  He's even directed Jet Li and Jack Ma in a commercial!  We spoke over lunch about his field of expertise, my field of expertise, other hobbies, politics, even philosophy!  We could've chatted for hours!
Baron Baptiste, lululemon's global ambassador was flown in to take part in Unroll China was inspiring in his own right.  Speaking with him on his yoga empire and how he's been able to scale up was a fascinating story!
The event culminated in the Olympic Park where they threw a massive party outdoors and launched their showcase themed video: THIS IS YOGA.  It featured people diligently honing their respective crafts whether it's beach volleyball, capoeira, pencil-drawing; but the centerpiece was focused around a Chinese girl who played the drums named Atom.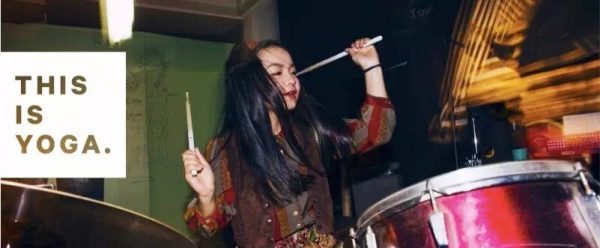 After playing the video on the big screen, in front of 5000 attendees, Atom walks up on stage where a drum set awaited her and she played her heart out in front of an enthusiastic crowd.
From my standpoint, the event was a huge success.  It was the result of the grand vision the company laid out, marked by the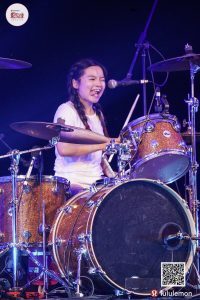 hard work and dedication of its team in putting it all together.  It was a great little weekend vacation for me personally and professionally, as it augmented my own passion in what I strive to do with Olive Branch and in my own community – which is you my fellow reader.
In closing, I'd like to end off by wishing all of you to keep excelling in whatever it is that you derive passion and meaning from whether it's from playing the guitar, playing badminton, being an awesome leader in your company or just being the best parent or spouse you can be!
In the words of lululemon: "What are you in the practice of?"